Well, we can never pass up the opportunity to gather up enough people and money to get the Autodesk Platform Technology Evangelist to shave his head in the name of Revit.

I just received an email from Shaan Hurley about several issues for Autodesk University.

First is the request to place this lovely badge on my blog and link it to http://au.autodesk.com. That was the easy one.

The next items are a little more challenging. From Shaan's email:



1. FYI: There will be a Twitter Tweetup event on the exhibit hall floor Tuesday night at 7PM in the AUGI area.

2. Make sure to spread the word to other Twitter users to follow me at @mrcadman as there will be some fun spur of the moment Twitter fun during AU. Also If I get people toe to donate $2000 to the Susan G. Komen Breast Cancer Foundation AND I get over 2000 followers to my Twitter account, I will shave my head at AU for the good cause!

Well, Shaan, you've inspired me to get you to shave your head. Everyone, please visit
http://www.info-komen.org/goto/revit3d.
I've made a donation page at the Komen Foundation and ask that each of you donate $5.00 I need all 800 of my blog readers to stop what you're doing and make the donation now. I kicked things off with a $200 donation. That leaves us with $1800 to reach our goal. I'm repeating now what it written below from the fundraising page, but I will donate $1.00 for every new blog subscriber I get until December 1st The harder part is getting 1035 people to
follow Shaan on his Twitter page
. Click
this link
to make it fast and easy.
Autodesk University - Shaan Hurley - Revit3D.com FUNdRaiser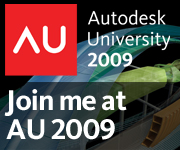 Team Fundraising Goal: $2,000.00

Please bookmark this page.
After having read an email from Autodesk's Shaan Hurley about his request to raise $2000 for Susan G. Komen Breast Cancer Foundation, it inspired me to come here, learn more about the organization and inspire me to use my resources to help make a difference.
It started by seeing Shaan write that if he could raise $2000 and get his Twiiter membership up to 2000, he would shave his head at Autodesk University. My goals is to help Shaan reach his goal and get enough people to follow through so we can watch Shaan do this at the Autodesk Blogger's Social.
Here's what I am going to do. From now until December 1st, for every new follower to my
http://Revit3D.com
blog, I will donate $1.00.
Also, I will ask each of my blog readers to make a $5.00 donation to the fund.
My favorite aunt is a 2 time breast cancer survivor and this is my tribute to my Aunt Rosalie. I didn't think much of it yesterday, but my father told me that my mother had a clean bill of health from her mammogram yesterday. We take for granted the good news and dread the prospect of the bad news.
Lastly, these donations are my tribute to all things 3D or maybe 36D, but we'll stick with 3D for the moment. In honor of architecture, visualization and the beauty of woman and nature, we can all work together to make a difference for Susan G. Komen Breast Cancer Foundation and for Revit and BIM.
I've never seen anyone offer to shave their head for a worthy cause, but Shaan, this page is for you.
Also, please follow Shaan on Twitter as part of his offer to shave his head.
http://twitter.com/mrcadman
You can follow me too if you're so inclined:
http://twitter.com/revit3d