If it wasn't for those damn kids....All I can say is wow! Jeff, I don't know how you managed to ruin Revit for me forever by throwing calculus at it, but what you did is amazing. No one said there'd be math. You're truly brilliant with what you created here. It also really shows what you can do with Revit too. Great job and everyone should take a look at Jeff's video to see how far you can take the technology.

Source: http://therevitkid.blogspot.com/2009/12/revit-and-calculus-final-complete.html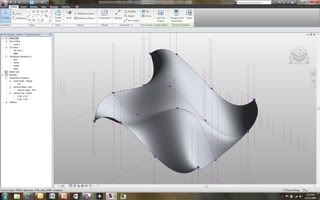 View Larger Image...

Finally, finished my final project for my Calculus 1 class... For those of you who are unfarmiliar with the project here are the two original posts in the very begining stages of the project:



I created a nice power point and presentation. Of course, I recorded it for my readers to benefit from as well! I begin by explaining a little bit of Calculus (given that it was a calculus class) and then wen into all the formulas I used in Revit. I then deomonstrated using these formulas within Revit. The finale consisted of a comlpex surface being driven by calculus. Enjoy!

Original Post:
The Revit Kid.com!: Revit and Calculus - Final... Complete!