So, you don't like paying Autodesk for subscription renewals? Well, this should distract you from that. The airlines are charging you for everything. Pretty soon, they'll ask you to take a sip of Coke and pass the can to the person behind you. An airline in Japan asks the passengers to go to the bathroom before the plane takes off so it won't weigh as much and save on fuel. Let's all drink a gallon of water before we get on the plane and really show the airline who's boss.

On a serious note, effective March 16th 2010, if you're not on subscription with your software, in order to upgrade, it's going to cost 50% of retail to upgrade.
AutoCAD $4000 New seat - $2000 + subscription to upgrade. Currently $450 for subscription
AutoCAD Architecture $5000 New seat - $2500 + subscription to upgrade. Currently $595 for subscription
Revit Architecture Suite $6000 New seat - $3000 + subscription to upgrade. Currently $725 for subscription.

What does this mean? If you think you're screwing Autodesk by not upgrading yearly or paying for subscription, the joke is on you. You're trying to not pay them, and you just end up paying them more. That's great business planning.

If your subscription has expired, you have 364 days to do a late renewal even after the 3/16/10 date.

Example:
Subscription expired 1/27/10 and it's now 4/1/10: Cost $725 + 100 late fee [over 30 days less than 364]
Subscription expired 2/22/09 and it's now 3/1/10: Cost $825 + Sub renewal $725 [over 365 & before 3/16]
Subscription expired 2/22/09 and it's now 4/1/10: Cost $3000 + Sub renewal $725 [over 364 & after 3/16]
Subscription expired 3/15/10 and it's now 3/20/10: Cost $725 [within 30 days of expiration]
Subscription expired 3/15/09 and it's now 3/16/10: Cost $3000 + Sub renewal $725 [over 364 days & after 3/16]

Message? Get back on subscription before 3/15 or you'll never afford to after that. Get a 3 year financing package and pay monthly if you don't have the cash flow. The recession will be over within the next 3 years.

Autodesk is focusing on contractors who are becoming design builders anyhow, so they're not going to cut you any slack anymore. For years, people have complained about the software, the cost and everything else. Autodesk is in business to create and sell software for the AEC industry. Contractors are investing in BIM and they're supporting that emerging market because they're willing to pay for the software and take advantage of the benefits.

Revit doubles productivity. That reduces the time and staff needed to complete a set of CDs. Stop whining about the cost of the software and use technology that will actually help you make money. CAD can't compete agaisnt BIM. End of story. It's the End of the Line! Welcome to the BIMocracy. Pay or perish.

Yes, that's harsh, but it's true. If you really want to show Autodesk who's boss, pay them now before you have to pay them more later. Really teach them a lesson. If you actually paid for training and got productive, you could lower your staffing needs and not buy as many new seats of Revit. That would really show Autodesk you're going to screw them. What a concept.









February 9, 2010 7:22 p.m. EST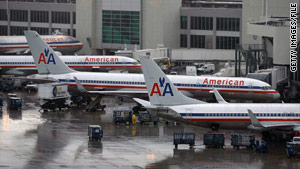 Starting May 1, American Airlines will sell blankets and pillows on domestic flights.
STORY HIGHLIGHTS
American Airlines to charge $8 for pillow and blanket sets

Charges apply to economy-class customers on domestic flights

Decision to charge driven by economics, spokesman said

(CNN)
-- Chilly on the plane? Bring a sweater, or $8 for a blanket-and-pillow pack, if you're on a domestic American Airlines flight.
On May 1, the carrier will begin charging for a pillow and blanket set on all domestic flights, as well as those to or from Canada, Mexico, Hawaii, the Caribbean and Central America, according to American Airlines spokesman Tim Smith.
The $8 charge buys a blue fleece blanket and an inflatable neck pillow that fliers can use in flight and keep for future use.
"American evaluates all aspects of the business to ensure that economic decisions are prudent and strategic for the long-term success of the company," Smith said in an e-mail announcing the decision.
Video: Will passengers pay for pillows?
Passengers on international flights or in premium class cabins still will be offered complimentary blankets for use in flight.
JetBlue Airways started selling blanket and pillow packs in 2008. US Airways started charging for sleep kits last year.
Source: American Airlines to stop offering free blankets on domestic flights - CNN.com